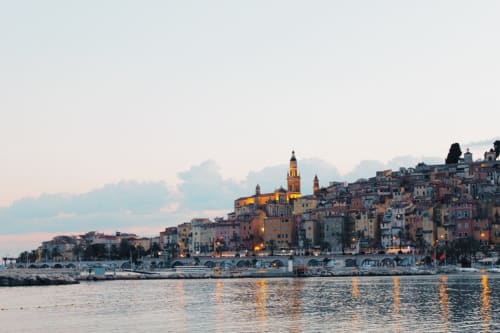 Menton
Menton is surrounded by high mountains dominated by the Mont-Agel (1149 m), Mont-Ours (1249 m) and the Berceau (1200 m). Nested in the heart of a bay delimited to the west by the Cap-Martin and to the east by the Mortola point, the town opens on the Mediterranean and is backed by the Alpine foothills.
A fascinating legend is tied to Menton and its symbol, the lemon. Eve had been chased from the Garden of Eden with Adam and had stolen a golden fruit. Adam, fearing God's anger, asked her to get rid of it. After having crossed mountains, valleys and plains, they arrived at the bay of Garavan.
The gulf, the tameness of the climate, the lush vegetation… everything reminded her of the Garden of Eden. Therefore, she buried the lemon there! A small Eden was born, Menton. Don't look around anymore, our hotel is the ideal place for your stay in Menton.